TOTUM Student Card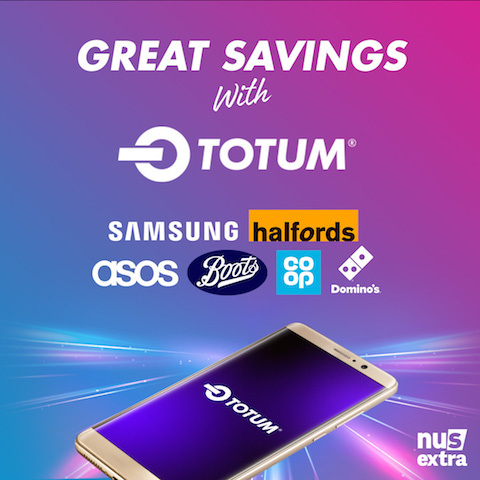 As an OU student, you are eligible to purchase a TOTUM card, powered by the National Union of Students (NUS). With the TOTUM card, you will have access to an ever-expanding range of discounted deals from food, essentials, tech, travel to home delivery, fashion, beauty and a whole lot more...
Prices are £14.99 for a 1 year card, £24.99 for 2 years and the 3rd year is thrown in for free. So, whether you are new to student life, are returning after a break or have recently graduated, make the most of your current student status and bag yourself three years of discounts for the price of two!
Cards include a free 12 month International Student Identity Card (ISIC) bolt-on and the option to include PASS-accredited Proof of age ID too.
In response to our changed circumstances during the current pandemic, TOTUM are working closely with brand partners to bring new offers for products that use home delivery and the internet.
TOTUM's Essentials category includes lots of offers on the kind of things that make life that little bit easier. Current offers include 10% off every time you shop at the Co-op, easy-to-prepare food packages delivered straight to your door with HelloFresh, sampling Smol's eco-friendly laundry tablet delivery service and six months FREE Amazon Prime membership.


When ordering TOTUM please use your ou.ac.uk email address. You can find out how to access this on the OU Help Centre.
Steps to getting your TOTUM card:
Activate your ou.ac.uk student email address by accessing it using your OUCU* (not your PI!). Find out how on the OU Help Centre.
Sign up to TOTUM using your ou.ac.uk email address.
TOTUM will ask you to verify your account by sending an email to your ou.ac.uk email address - make sure to click the verification link.
Order your TOTUM card and enjoy your discounts!
*OUCU, or OU computer username, is the username you use to login to StudentHome and your module website. Find out more about accessing OU systems on the OU Help Centre.
Students living outside the UK
At this time, we are unable to receive cards for international students to our office address for forwarding free of charge. However, students may download the app through which all discounts are available.